Butter Cookies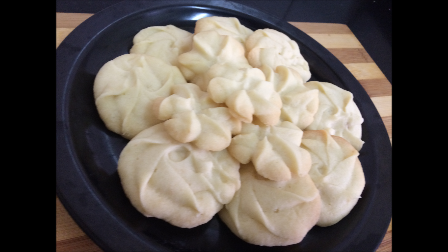 Ingredients
113 gram butter (at room temp.) (8 tbsp)

100 gram maida (3/4 cup)

2 tbsp corn flour

43 gram icing sugar

½ tsp vanilla essence

¼ tsp salt
Method (How to make butter cookies at home)
Preheat the oven at 160 C for 10 minutes

Sift the maida, corn flour and salt.

Beat the butter for 1-2 minutes add icing sugar and beat for 2 min or until fluffy.

Add vanilla essence and mix.

Add shifted flour mixture and mix nicely.

Transfer the batter into a piping bag and pipe out the cookies on a greased cookie tray.

Bake at 160 degree for 16-20 minutes or until done.