Eggless Atta Jaggery cake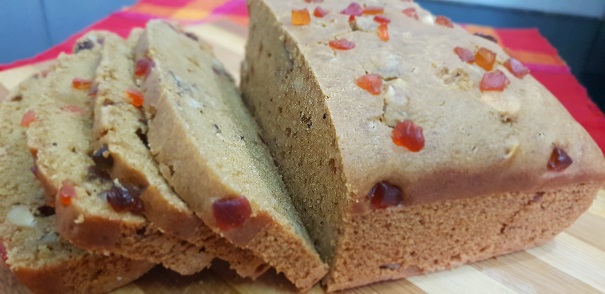 Ingredients
1 cup wheat flour

1/2 cup jaggery

3/4 cups of water

1/2 teaspoon baking powder

1/4 teaspoon baking soda

2 pinch salt

1/2 teaspoon cinnamon powder

1/3 cup of oil

1/2 cup mixed nuts(cashew nuts, almonds, walnuts, raisins)

1 tablespoon tutti frutti
Method (How to make whole wheat cake using jiggery)
Put ¼ cup of water in jaggery, mix till dissolve, then put aside the filter.
Mix baking powder, baking soda, cinnamon, salt in to the flour and sieve it.
Add chopped nuts and tutti frutti and mix one spoon of flour and keep aside.
Mix oil in jaggery water and add it in to the flour, add half a cup of water and mix it well.
Mix chopped nuts.
Grease the 5-inch cake vessel with oil and sprinkle one spoon flour..
Remove whistle and rubber from the cooker and put a cup of salt and place a wire stand, heat it for 10 minutes on a gas.
Put a mixture of cake in a vessel and add some nuts or tutti fruit over it.
Put the cake utensil in the cooker and close the lid and cook it on a low flame for 40 minutes.
Check with toothpick or knife by inserting in the centre, if the cake is cooked, the knife or tooth pick should come out clean.
Remove the cake from the cake tin and place on the wire rack to cool down completely.
When the cake is completely cooled, slice the cake and serve.