Eggless Red Velvet Cake in Pressure cooker with Cream Cheese icing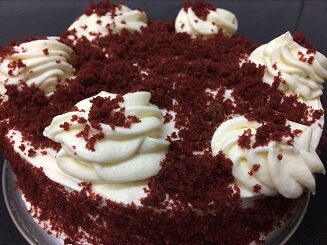 Ingredients
1 ½ cup all purpose flour (maida)

1 tbsp cocoa powder

1 tsp baking soda

½ tsp salt

200 gram granulate sugar

240 ml buttermilk (or 1 cup milk and 1 tbsp vinegar)

120 ml vegetable oil

1 tsp vanilla essence

1tbsp red gel colour

½ tsp vinegar
For cream cheese frosting
180 gram cream cheese (Britannia cream cheese)

130 gram unsalted butter

200 gram icing sugar

1 tsp vanilla essence

2-3 tbsp sugar syrup (3 tbsp water and 3 tbsp sugar mix together)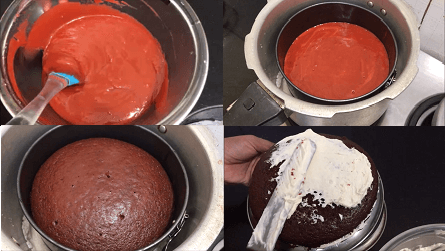 Method (how to make market type red velvet cake at home in cooker)
For cake
Pour one cup salt in the big pressure cooker and heat for 10 minutes on medium flame keep one wire stand inside the cooker or Pre heat the oven in 180C.

Mix all purpose flour, salt, cocoa powder, and baking soda and sift and keep aside.

Now mix buttermilk, sugar, oil and vanilla essence and mix well till everything comes together.

Add red colour and mix well.

Add maida mixture slowly in two three batches and mix. But don't overmix.

Now add ½ tsp vinegar and give a good mix.

Line a 8 inch cake pan with butter paper and grease with oil.

Pour the cake batter into the prepared pan

Keep the cake pan inside the heated pressure cooker remove the vessel and gasket and cover the lid or cooker and bake for 35-40 minutes or until toothpick inserted comes out clean.
Or
Bake in a preheated oven for 30-40 minutes or until tooth pick inserted comes out clean.

When cool down unmold the cake cover with cling wrap or keep in the airtight container and keep inside the fridge for 3-4 hour before icing.
For cream cheese frosting
Bring the butter to the room temperature (butter should not be too soft)

Cream cheese also should be cold but not in room temperature.

Beat the butter in the bowl for 4-5 min

utes and till light and fluffy.

Beat the cream cheese in a separate bowl for less than a minute.

Add the butter to the cream cheese and beat for few seconds.

Add icing sugar in 2-3 batches. After each addition just mix with spatula.

Once all the icing sugar is added beat for a minutes or till everthing is combined.

Refrigerate for about 1 hour before applying on the cake.

For decorating cake
Cut the top layer of the cake and crumbled it for decoration keep aside.

Now make 2 or 3 layer of the cake.

Take one layer of the cake apply one tbsp sugar syrup over it and make one layer with the icing over it.