No Bake Strawberry Cheese Cake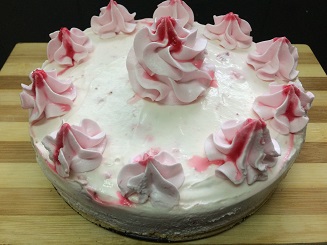 Ingredients
200 gram cream cheese (Britannia Cream Cheese)

200 gram whipping cream

60 gram icing sugar (powder sugar)

½ tsp vanilla essence

10-12 fresh strawberries (mashed) or ½ cup strawberry crush

200 gram marie gold biscuit

3 tbsp melted butter

8" inch spring form tin (or any cake tin)
Method (How to make strawberry cheese cake at home)
Crushed the strawberries with fork, but do not make puree, the mixture has to be chunky.

Make small pieces of the biscuit and grind in a mixture grinder till they are sand like texture.

Transfer the biscuit powder in a bowl add melted butter and mix with hand well.

Transfer mixture in to the spring form cake tin (if you don't have a spring form cake tin make cake in small cups otherwise it is difficult to remove cake from the tin)and press mixture tightly to make cake base using any spatula or flat knife. Keep in the fridge for 30 minutes.

Whisk whipping cream with the electric beater or hand beater till soft peak form, and keep in the fridge for 1 hour.

Whisk the cream cheese until soft and fluffy, and add vanilla essence and icing sugar and mix well.

Add whipped cream and crushed strawberries and fold gently.

Pour the mixture into the biscuit base and set in the fridge for 5-6 hour or overnight.

Garnish with chopped strawberries and serve.