Healthy and Tasty Curry Leaves Chutney Powder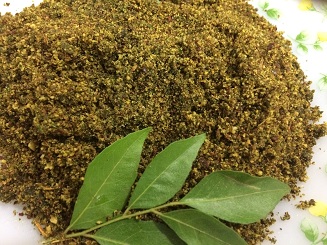 Ingredients
1 cup fresh curry leaves (washed, dry)

1 tbsp chana dal

1 tbsp urad Dal

1 tsp tamarind

10 whole red chilles

¼ tsp asafoetida

½ tsp cumin seeds

½ tsp mustard seeds

Salt as per taste

2 tsp oil
Method (How to make curry leaves chutney powder at home)
Heat oil in a pan add chana dal and fry till light brown, add urad dal and fry together till light brown remove from the pan.

Add cumin seeds, mustard seed and asafoetida in the remaining oil in pan, add tamarind, whole red chilles and fry till chillies turn crisp and brown switch off the flame and remove from the pan.

Add 1 tsp oil in the pan and add curry leaves and fry on low flame till crispy.

Switch off the flame and let it to cool down.

Put all ingredients in the mixer jar and make powder.

Keep in the air tight container and serve with idly, dosa and rice.

This chutney powder can be store for 1 month.