Biscuits Pizza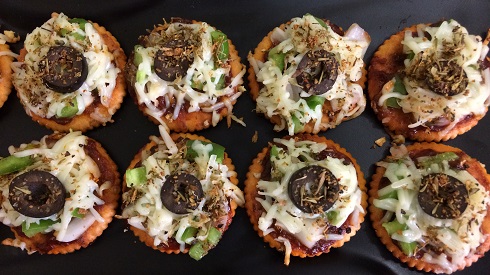 Ingredients
1 packet monaco biscuit

¼ cup pizza cheese (grated)

½ onion finely chopped

½ Capsicum finely chopped

2 tablespoon pizza sauce

1 teaspoon Pizza Seasoning

½ teaspoon Chili flake
Method
Put the pizza sauce on top of the biscuits, add chopped onion, capsicum, and put the grated cheese on top of it, put olive pieces.

Sprinkle some pizza seasoning and chili flake.

Heat a pan and put all the biscuits in it, cook 1-2 minutes on low flame, or cook it till cheese melt.

Serve and eat immediately.